General Spec for Custom Design LCD
RCL has been one of the leading and well-established LCD manufacturers in Hong Kong since early 1980's. We supply custom design and standard COB, COG, TAB, FSTN, STN, HTN, TN, DFSTN, DSTN and ASTN, HTN, CSTN and FS EBTN, Mono and Color EBTN (VA) displays, TFT, backlight and capacitive touch panels to various countries and a number of prestige customers.
With the rich experience all these years and also keep pace with the technology advancement on the time, we specialize in making custom-designed LCD, develop new projects from concepts to design, engineering sample, mass production and quality assurance in order to ensure full customers satisfactions.
Different technologies used under various conditions.
Brief Comparison of Different Technologies
TN / STN / FSTN / DFSTN / DSTN / ASTN / EBTN / FS EBTN / HTN / CSTN / TFT
MUX Ratio: 1-16 for TN/HTN; 16-240 for STN/FSTN/DFSTN; 16-128 for DSTN/ASTN; 1-64 (MLA) for EBTN; 1-2 for FS EBTN; 320 x 480 Dots for TFT
Extreme High Contrast Ratio: 80-1,000 (Recommended: EBTN)
Voltage Range: 2.0-32V
Temperature Range: -40°C-105°C
Feature Highlights:
TN: Well-developed Process, Low Cost
DFSTN / DSTN: Support Complicated Design
Production Flow Chart & COG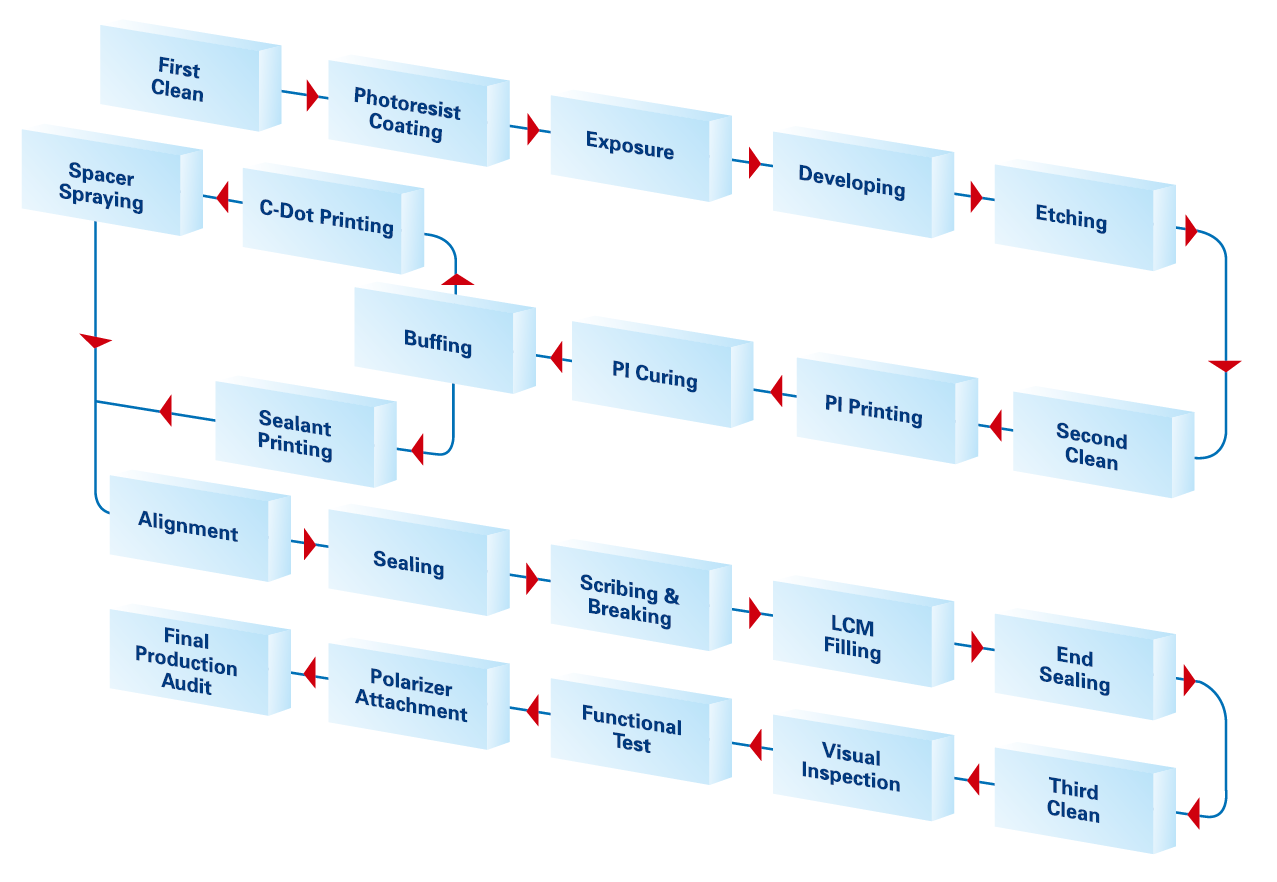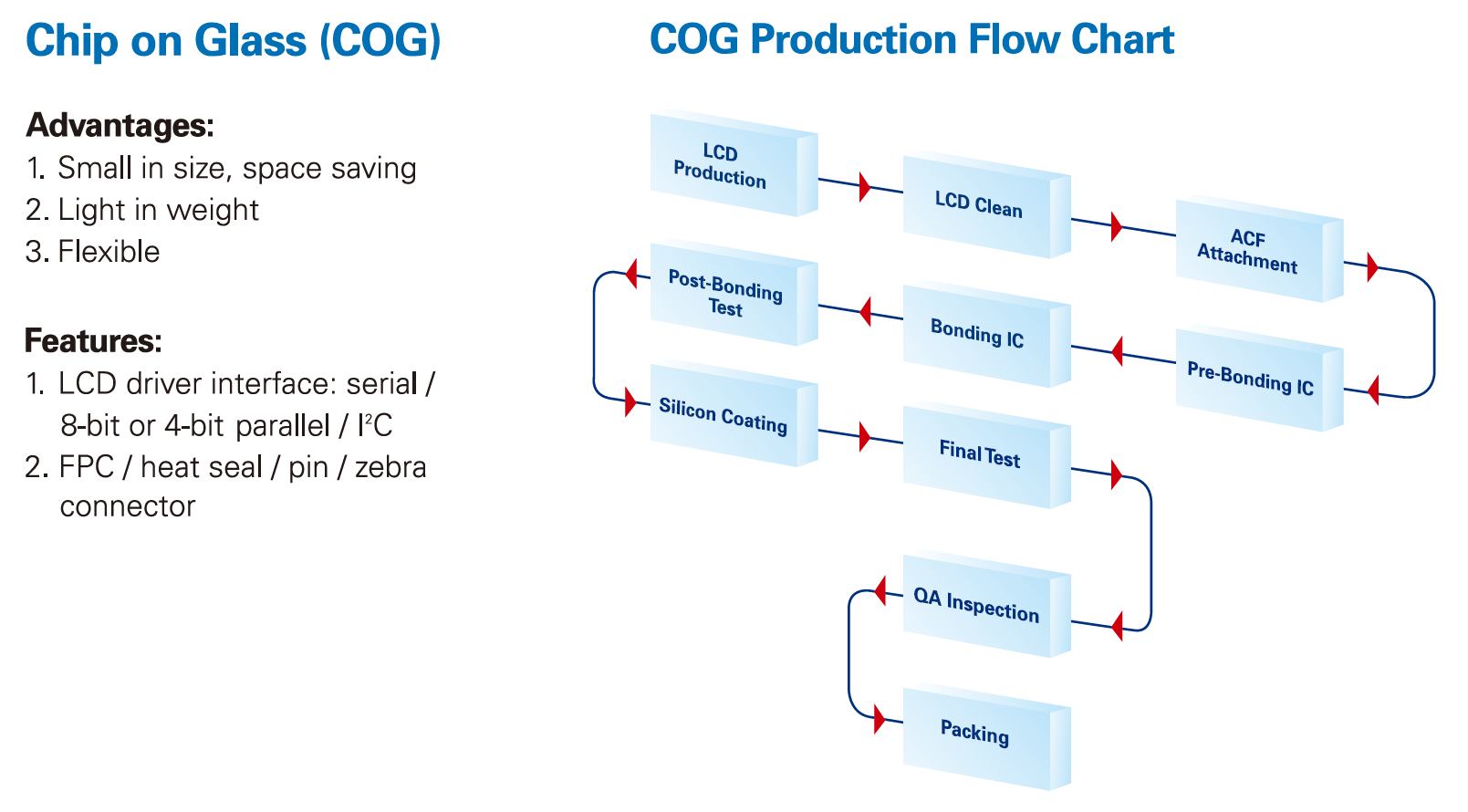 We have our own laboratory to conduct reliability tests to evaluate our products.
ELOP Measurement Equipment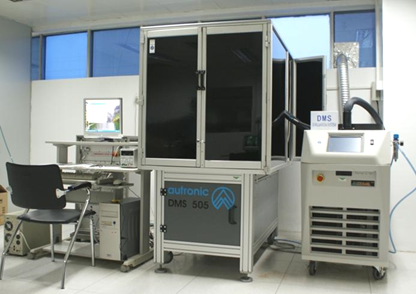 Constant Humidity & Temp. Test Chambers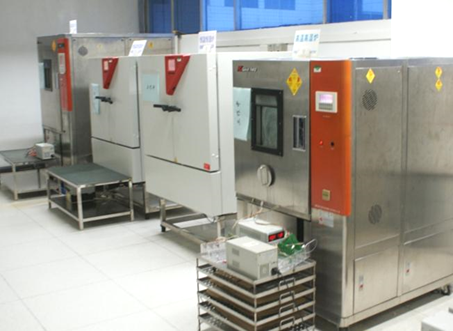 For LCD Panels:-
– Low Temperature Operation / Storage Test
– High Temperature Operation / Storage Test
– High Temperature and Humidity Test
– Temperature Cycling Test
– Thermal Shock Test
For LCD Modules:-
– Low Temperature Operation / Storage Test
– High Temperature Operation / Storage Test
– High Temperature and Humidity Test
– Temperature Cycling Test
– Thermal Shock Test
– Vibration Test
– Drop Test